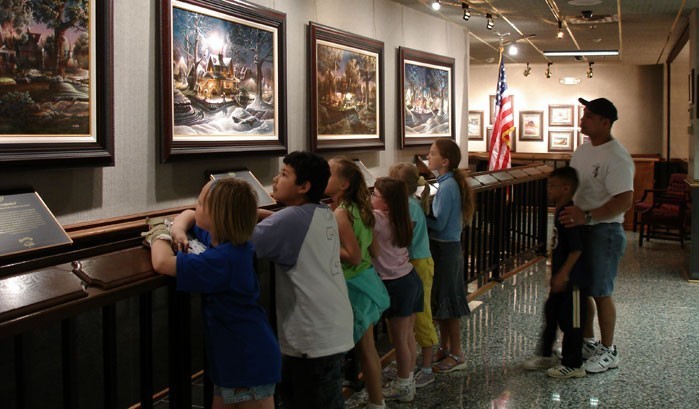 Redlin Art Center IS OPEN! Admission is FREE!
Fall/Winter Hours (From Labor Day through Memorial Day)
Monday – Friday: 9 a.m. to 5 p.m.
Saturday: 10 a.m. to 4 p.m.
Sunday: CLOSED
Summer Hours (from Memorial Day through Labor Day)
Monday – Friday: 9 a.m. – 5 p.m.
Saturday: 10 a.m. to 5 p.m.
Sunday: 12 p.m. to 5 p.m.
Please note, we are open from 12 p.m.–5 p.m. on Memorial Day and Labor Day. We are CLOSED on Independence Day, July 4th.
CLOSED ON THESE HOLIDAYS:
Thanksgiving Day
Christmas Eve
Christmas Day
New Year's Eve
New Year's Day
Easter Sunday
Independence Day
Art that should be experienced by all
Admission at the Redlin Art Center is always free. The generous support of our donors and purchases made through the Gift Shop keep the lights on and entry free of charge.
Questions about planning your trip? Call us toll-free at 1-877-873-3546 while we're open, or contact us online 24/7.
Gift Shop
Coming to the Redlin Art Center? Did you know you could pick up artwork while you're here and save money on shipping? It's easy! Just click "Pick up in the Gift Shop" during payment and let us know when you'll be here. The Gift Shop will have everything ready for you when you get here. Shop now.
Our Address:
Redlin Art Center
1200 33rd Street SE
Watertown, SD 57201