Apple River Mallards
605477
The Encore I Edition is an unsigned, unnumbered print with an image size of 8-3/4" x 14".
Year Painted: 1977
Year Published: 1977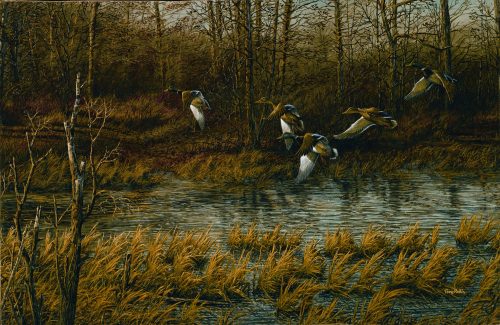 Apple River Mallards Encore I Print
F701100001C
This print is custom framed for you and usually ships within 10 business days.
Encore open edition art print made from the original oil painting. Image size, 8-3/4″ x 14″. Framed size 20-3/4″ x 26″ with 3″ distressed walnut-finished moulding with gold beaded inner edge. Double matting with faux-textured Earthen Loden outer mat.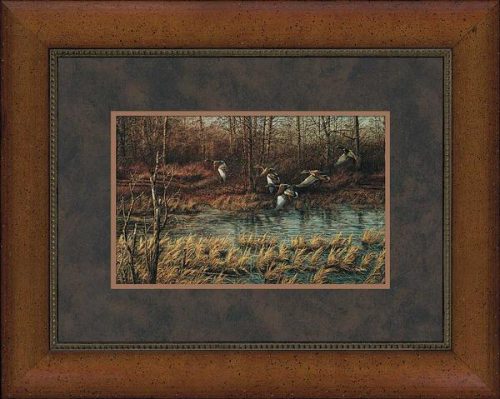 Apple River Mallards Custom Framed Encore I
119009089
Certificate of Authenticity
Signed open edition print
Image Size 12″ x 18 1/4″
Unframed Paper Print
We are pleased to share a very special opportunity with Terry Redlin fans and collectors. The Redlin family has made their personal collection of limited edition prints available to the Redlin Art Center. Ever since his very first print was released, Terry saved for his own archives, a print from each of his editions. In fact, sometimes, he would save a few so that he would have them for his children, too. Now, since he has officially retired, he and his family have decided to make some of these rare and special editions available to the public. These prints are numbered and hand-signed by Terry Redlin and are part of the original edition. They have never been sold, but have been carefully stored for safe keeping by the Redlin family. Today, as part of their ongoing support of the Redlin Art Center, they are making some of these prints available for purchase. The Redlin Art Center would like to extend a special thank you to Terry Redlin and the Redlin family for making it possible for us to share some of these rare and collectible pieces of art.
Year Painted: 1977
Year Published: 1977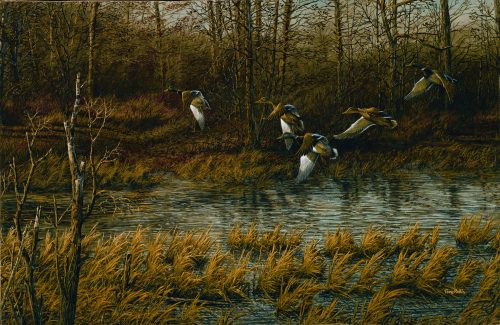 Apple River Mallards Signed Open Edition Unframed Print
Description
First Painting Released By Terry Redlin
Years:
Painted: 1977 Published: 1977
The time is a warm, sunny afternoon along a backwater near the Apple River. The rich seasonal brown and orange hues seem to permeate the very air as five mallards coast silently to a secluded resting place.