Startled
1701522089
The Encore II Edition is an unsigned, unnumbered print with an image size of 10-1/2" x 18".
F701522089C
This product is hand-crafted for you and usually ships within 10 business days.
Encore II open edition art print made from the original oil painting. Image size, 10-1/2″ x 18″. Framed size 21-1/2″ x 29″ with 3″ distressed walnut-finished moulding with gold beaded inner edge. Deluxe double matting with faux textured Earthen Brown outer mat.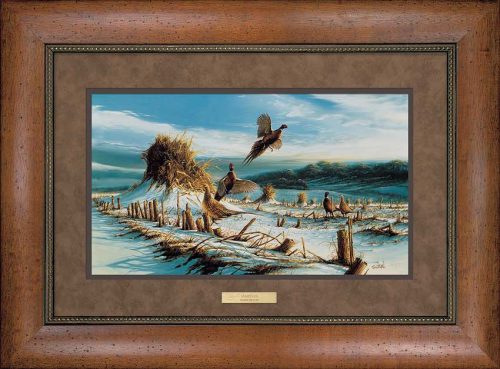 Startled-Pheasants Custom Framed Encore II
Description
Ring-necked Pheasants Caught Off Guard
Years:
Painted: 1978 Published: 1978
The peacefully feeding ring-necked pheasants have been caught off guard and break the still winter air with a flurry of sound and action. This corn patch was an actual field, hand planted and harvested with an old corn binder, then laboriously collected into large shocks. The artist found the setting a unique contrast to the straight rows and clean cuts made by modern framing equipment.